We have one month until the ice thaws, and spring blooms, and with spring we leave behind the cold, bitter dryness that winter brings us. You may be feeling like your hair and skin is feeling the effects of winter! Well don't worry we have just the remedy for you!  
Treat Yourself

Treat your hair to some tender loving care by lathering up with ylang ylang.  A lush, super-sensual aroma found in the Damage Remedy family. Can a damaged hair treatment really smell beautiful? You bet it can. Damage Remedy Daily Hair Repair instantly repairs damaged hair and protects it from thermal damage up to 450 degrees. Daily care should be a luxurious experience, and it is thanks to a blend of certified organic bergamot, ylang-ylang and mandarin.
Instantly repairs and protects from heat styling.
97% naturally derived* leave-in treatment instantly repairs the integrity of hair's surface.
 Helps protect the hair against breakage and thermal damage up to 450°.
Formulated with quinoa protein, this leave-in treatment helps give you stronger, longer hair**.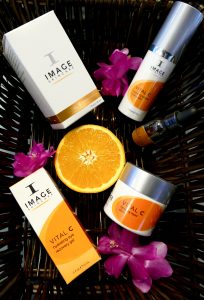 Here's how to step up your winter skin game so you step into springtime with a fresh, dewy complexion.
Amp up the moisture during the day without getting greasy! Adding a layer of moisturizer for extra protection before applying a SPF will ensure that your skin is getting the moisture it needs. 


MTMH RECOMMENDS: VITAL C hydrating intense moisturizer

Lock in that moisture before you go to bed, by applying a thicker, richer cream. Your skin performs most of its reparative work as you sleep, this ensures your skin gets all the nutrients and hydration it possibly can. 


MTMH RECOMMENDS: VITAL C hydrating repair crème

After moisturizing add a layer of oil on spots prone to dehydration , pat on a couple of drops of facial oil to supercharge moisture in the area while creating an extra-protective barrier against water loss. 


MTMH RECOMMENDS: VITAL C hydrating facial oil

Apply a moisturizer containing broad-spectrum sunscreen. The UV rays penetrate clouds and windows no matter what the weather is, which means your skin is susceptible to the effects of aging any day of the year. 


MTMH RECOMMENDS: PREVENTION+ daily hydrating moisturizer SPF 30+

Treat your face with a hydrating sheet mask every week. When in doubt or dryness, always rely on a mask! A sheet mask delivers hydration deeply into the skin by allowing the ingredients to penetrate in high concentration. 


MTMH RECOMMENDS: I MASK biomolecular hydrating recovery mask
You are now on your way to Hydrated, Nourished & Revitalized Hair & Skin!