TRENDING NOW: THE NEW WAY TO ROCK A FRENCH TIP
FRENCH & FADED
This concept blends two styles into one beautiful look!
Simply ask your nail technician to stick to the french tip style, with white tips & a nude base, but ask for this beautifully faded effect in order to give your nails a fresh new take on the ever popular ombre trend.
For best results, the nail technician should apply the two polishes on a makeup sponge and continuously dab onto the nail. Finish with a topcoat and voila! You're fabulous.
CUSTOM DETAILS
We admit, this nail trend requires incredible patience & talent, something that I personally don't have when it comes to doing my own nails.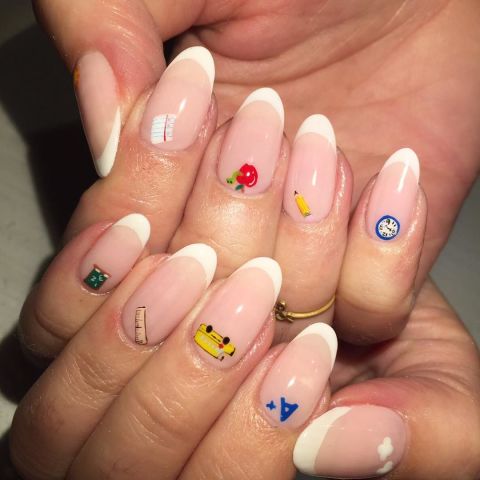 Luckily, Colleen the incredible nail technician at Music To My Hair has steady hands & inspiring precision when it comes to painting these practically microscopic designs. Just ask for custom nail art when booking your next appointment at Music To My Hair Salon!
To achieve this look, a thin brush is needed to paint the playful designs onto the base of your nail.
You can incorporate the changing seasons into your design or your favorite sports team, or even something that simply speaks to you & shows off your sparkling personality.
DOUBLE LINED
Minimalism remains a massive trend in the beauty and home decore industry. Why not incorporate the minimal trend into your nail design?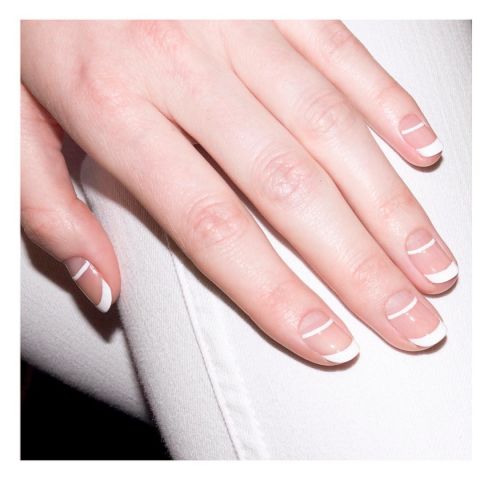 This look upgrades the basic french tip with a simple & elegant corresponding middle line.
For this simple addition, ask your nail artist to mimic the curve of your tip to get the cleanest look.
FADED MINT
This nail artist combined a mint-colored french tip with a black ombre fade.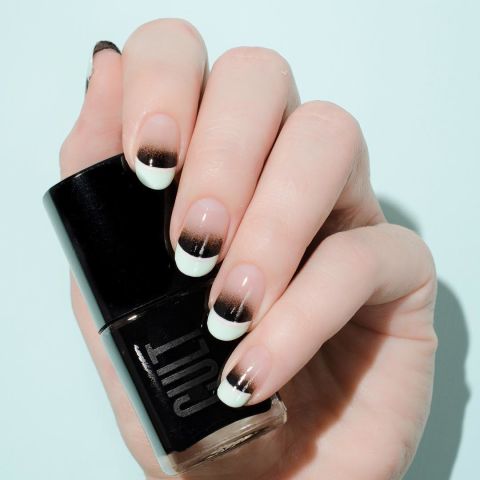 If mint isn't your color of choice, you can always opt for your favorite color instead!
Just ask your nail artist to start with the lightest shade first & allow each coat to dry completely before moving to the next color.
Get creative and mix a few different complimentary colors together or stick to this clean and subtle version, it's all up to you!
STRIPED & SIMPLE
This look is a subtle way to add an eye-catching twist to the classic french manicure.
Colleen would allow your white tips to dry and underline with a stripe of nude polish, finishing off the look witha clear top coat.
Although a simple statement, this look was worn by ELLE.com's very own beauty gurue, Julie Schott – take note of this version of the french manicure ladies!
FLORAL ELEGANCE
Another take on the customizable manicure, this easy addition to the original french tip will keep you looking elegant & graceful!
To get this design, the nail artist applys a thin coat of clear top coat, and while taky, carefully sets your design & presses down.
CHECK MATE!
To rock the checkerboard themed french, Colleen will begin by painting the classic french tip. Once dry, Colleen will apply black boxes on top of the white strip to create the design.
Not only does the black & white combination offer a statement, but the look will work well whether your personal style is on the edgy side or considered classicly chic!
BOOK YOUR MANICURES!
All of these looks are gorgeous upgrades to the french manicure and each of them can be custom tailored to fit your personality & style.
Tell us, which of these designs would you most like to try?
Luckily, Music To My Hair has an incredible nail technician who is more than capable of bringing these designs to you!
Colleen is skilled, precise, & passionate when it comes to nails. Her expertise lies in nail art & design, which are meticulously done by hand. Colleen always aims to give you the best nail experience at Music To My Hair.
Call to book your appointments at 518-313-7723!
Ashley Millet
Music To My Hair Salon & Advanced Academy
1214 Troy Schenectady Road
Latham, NY 12110
518-313-7723